This report consists of both the 'factual content', and personal thoughts of both of us at various times during the day or useful explanations, which have been highlighted in green. We continue on from where the 'pre wedding' reports end.
The bridal entrance music was a version of Pachelbel's Canon in D, recorded by Acker Bilk. First, our flowergirl Leonie entered scattering autumnal coloured silk petals, followed by the bride and her father, then the Maid of Honour Bev and the two bridesmaids Andi and Kelly. Our ring bearer Sammy "bought up the rear", ably accompanied by our ushers Robin and Andrew acting as security guards, to help him in this really important job. The bride wore an ivory dress called "Tegen", and the bridesmaids and flowergirl wore dresses in hunter green. The groom wore a grey suit; the groom, best man, father of the bride and ring bearer wore hunter green waistcoats, and the men of the bridal party and family wore hunter green ties. Hunter green is a dark forest green colour, and the background colour of the website.
Starting with a welcome and introductions by the registar, we began our ceremony with the legally required declarations.
followed by the exchanging of rings between the bride and groom.
The bride and groom then read, as additional vows, "I will be here" by Steven Curtis Chapman.

If in the morning when you wake, If the sun does not appear, I will be here.
If in the dark we lose sight of love, hold my hand and have no fear, I will be here.
I will be here when you feel like being quiet, when you need to speak your mind I will listen.
Through the winning, losing, and trying we'll be together, and I will be here.
If in the morning when you wake, if the future is unclear, I will be here.
As sure as seasons were made for change, our lifetimes were made for years, I will be here.
And you can cry on my shoulder, when the mirror tells us we're older.
I will hold you, to watch you grow in beauty, and tell you all the things you are to me.
We'll be together and I will be here.
I will be true to the promises we've made to each other, I will be here.
Carolyn: We had additional vows in the form of the words of a song/reading and I was very pleased that my nerves did not show.
AJ: As was I, because I was feeling a bit emotional too and I know that if Caz had started to well up, I wouldn't have been far behind. I think there were one or two tears from our guests though as it was a very special and emotionally charged moment.
This was followed by responsive vows from the assembled guests to support the bride and groom in their new life together.
Friends and Family of Carolyn and Andrew, you have been invited here today to witness the joining of these two people in marriage. Will you continue to support them and their families, laughing with them in times of happiness and comforting them in times of difficulty and disappointment.
(We will)
Will you be there for them when they need advice or help, giving them encouragement, love and support and helping them, in turn, to form their own secure and loving family circle.
(We will)
AJ: Just before - literally half an hour before - we sent off our paperwork to the registrars some months back about how we wanted to assemble our ceremony from the various options available to us to fit around the unchangeable legal parts, I discovered that you could include the "guest vows" above as an optional extra - this is apparently a fairly recent change. As very similar wording and principles are a part of a Church service, we felt it was a worthwhile thing to add. Several of our guests commented that it was a nice and unusual addition to the ceremony.
Next was a reading, "Thank You, My Soul Mate" by Marlina Bee Bryant, read for us by Gary. This was chosen by us due to its mentioning of the internet, which was how we met.

What if there wasn't the internet? Do you think that we would ever have met?
I keep thinking, what would I be doing? What kind of life would I be leading?
I often think about these things and I always come to the same perception
Without you, I could have been a lonely person, living an unfulfilled life
I know that we met for a reason and the definition was both you and I were meant to be soul mates.
You have given me the strength to move on.
I believe that our relationship has been blessed.
I am so content that things have turned out the way they were supposed to be.
Thank you for loving me, you are my world, my life, my heart and my soul.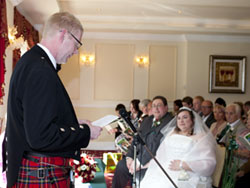 Carolyn: We then sat whilst Gary did his reading, and then it was time to sign the register. I always thought that the bride signed the register first but obviously I was wrong as the registrar handed AJ the pen. I then proceeded to sign my name as a Whittaker for the last time and was filled with a mixture of feelings.
This was followed by the signing of the register, during which we played three pieces of music: "Dawn of a new century" by Secret Garden, "It's getting better" by Mama Cass and "Sing a song" by The Carpenters.
Carolyn: We then had the formal photos of us signing the register. We then played some music whilst the registrars packed up and left, and it was then that I thought "this is it, I'm married legally now so all that's left is for our marriage to be blessed" and with that the music faded and Stuart began the blessing ceremony.
Once the legal parts had been completed, we were announced as husband and wife, then the registrars departed and an opportunity for people to take informal photographs, whilst we played "Baby I'm a want you" by Bread, and "Have I told you lately that I love you" by Van Morrison. We then handed over to Stuart for the service of blessing.
After introductions by Stuart, we had a Bible reading, Genesis 2 v 18-24, read by Becky.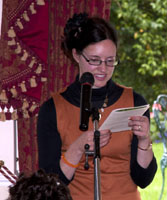 The Lord God said, "It is not good for the man to be alone. I will make a helper suitable for him." Now the Lord God had formed out of the ground all the wild animals and all the birds in the sky. He brought them to the man to see what he would name them; and whatever the man called each living creature, that was its name. So the man gave names to all the livestock, the birds in the sky and all the wild animals. But for Adam no suitable helper was found. So the Lord God caused the man to fall into a deep sleep; and while he was sleeping, he took one of the man's ribs and then closed up the place with flesh. Then the Lord God made a woman from the rib he had taken out of the man, and he brought her to the man. The man said, "This is now bone of my bones and flesh of my flesh; she shall be called 'woman', for she was taken out of man." That is why a man leaves his father and mother and is united to his wife, and they become one flesh.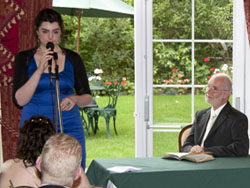 Sarah then performed a song, "Two" which she had written specially as her gift to us, based on our Bible readings, which had its 'world premiere' at our wedding.
After a short sermon by Stuart based on our Bible readings, Paul closed in prayer at 2.20pm. Our exit music was the 80's classic "Never gonna give you up" by Rick Astley, and the bridal party processed through to the garden followed by assembled guests, with a welcome drink of a fruit punch served in the Applemore room followed by informal photos in the garden and the formal shots across the road.
Carolyn: It was a lovely blessing ceremony with a reading by Becky and a song by Sarah which had encompassed the Bible readings that we had chosen, it had some lovely words in it. The ceremony ended and then the exit music started. There were a few chuckles from people who understood the significance of Rickrolling and after a few bars we proceeded down the aisle pausing for a few photos on the way. We then grabbed a much needed drink - being the centre of attention is thirsty work you know. We then ducked into the Exbury room with our photographer to do some mock cake cutting photos whilst our guests filed through and out into the garden, and we had a few minutes just to ourselves. It was lovely to see the room all decorated and Debbie came in to take some pictures.
AJ: One of our biggest concerns about the day was the weather, as obviously it is the one thing that we have absolutely no control over. As we assembled for the exit, the heavens opened up and we thought we would have to abandon our plans for outdoor photos. Three minutes later when we had picked up our drinks, the sun was out again so we continued out into the garden, and the sun stayed out.
Carolyn: We then followed everyone out into the garden after Duncan announced us, and we then had some informal shots in the garden whilst everyone had their drinks, you aren't allowed to take your glasses out of the hotel garden. We had been so lucky with the weather as about 10 minutes before it had been raining heavily but the sun was out as we traipsed across the road to the open heathland for the official shots. As cars passed people tooted and waved and another wedding car also passed us.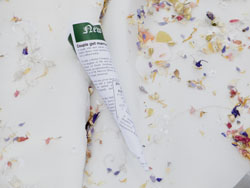 We handed out the confetti, which was in card cones that we overprinted to look like a local newspaper, and on it (and readable) was an article about a "local couple get married" which was a report about our special day with all the details you'd expect, which people enjoyed reading and made a great souvenir. Firstly John set up everyone in a giant heart shape around us, and then got some chuckles as he attached his camera to a large pole, set it on timer, pointed and hoped! Apparently it worked great though as he only took a few shots of it. We then churned through our list of group shots, starting with the big groups of family and friends and then whittling down until there were just the two of us and him. We then tried a few artistic shots amongst the trees and a few more confetti type shots with John's assistant throwing handfuls of it at us and letting the wind do its stuff. If you ever try something like that, don't say anything whilst the shots are being taken as you'll end up with a mouthful and it really doesn't taste as good as it looks.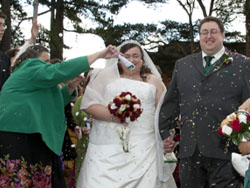 Carolyn: Thanks to my mum, the confetti went everywhere, and it took a while to remove it all before I could go to bed!
AJ: Several cars also stopped to let us cross the road back to the hotel. Less than five minutes after we had finished our outside photos and got back into the hotel... it began raining again! We somehow managed to time everything perfectly to fit around the inevitable September showers!
Close family and friends then joined us for the wedding breakfast, which was an informal barbecue served from the hotel garden.
Carolyn: I have to say that I got really nervous as the wedding breakfast came to an end and our evening guests started to arrive as I realised I had a speech to do, and a dance in front of 100+ guests. I shook so much that I had to put my card down which had my speech on it, but people didn't seem to notice.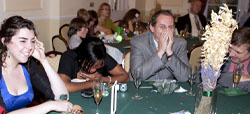 AJ: I wasn't particularly looking forward to my speech either, partly because a few people had said that the speeches should be five minutes maximum each because people get bored easily - and at the last runthrough mine was almost 12 minutes and that's without pausing for the various presentations I had planned, plus Caz's speech and my mum's speech. In the end our total speeches took almost a whole hour - but judging by the laughter and smiles caught on the official photos, everyone seemed to enjoy it as much as I thought they had. I think rather than length of time it's much more to do with content, and there were plenty of jokes, quips and humourous anecdotes and stories from everyone which kept the guests engaged rather than looking at their watches and wishing they were at the bar instead. I guess sometimes the 'experts' don't always get it right!
At 5.30pm our evening guests began to arrive. Speeches started at 6pm, with the father of the bride, the groom, the bride, the groom's mother and finally the best man. At 7.15pm was the formal cake cutting, and at 7.30pm was the bride and groom's first dance, led by the Hambledon Hopstep Band playing "Daisy Daisy" and a routine suggested by the band that we had practised called the Coolagh. The bride and groom were welcomed on to the dance floor with a fanfare on the alpenhorn. After a few turns through and some photos, family and friends were invited to join us on the dance floor. The dance area remained quite busy all evening, and the bar decidedly empty as everyone was having such a good time.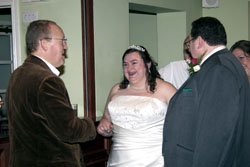 AJ: Although we had practised the moves of the dance, we didn't actually have the music to do it to and couldn't figure out how the moves fitted. A quick run through with the band's caller literally five minutes before we started didn't help a lot but thankfully nobody really knew the routine either and didn't notice that some of our timings were just ever so slightly out. No amount of preparation though can make "that moment" when you stand up in front of 100+ assembled friends and family and all eyes are on you, and you desperately hope that everything goes to plan and nothing happens that ends up on You've Been Framed or Youtube. I have to say that out of everything in the day, the first dance was the one thing I was looking forward to the least, but as it is an 'expected part' of the day we felt we had to keep it in. I just concentrated on my lovely new wife and blocked out everyone watching us, and it went off fairly well. Once John had taken a few shots of just the two of us, we invited friends and family to join us and thankfully the dancefloor didn't seem so big and scary after that. We stayed up for another dance before sitting down for a short break to recover, and mingling.
During the first half of the evening was a musical interlude by Nick Crump of the band. Nick is a music teacher, and specialises in introducing children to unusual instruments. By request, Nick brought along the Boghorn, which is a converted toilet pan, able to be played by two people simultaneously (bass and tenor mouthpieces), and the lid is pedal operated to act as a mute. One of our other musically talented guests accompanied Nick and, without any prior experience of musical toilets, made a great job of it. We are sure that the Boghorn will be a memorable part of our wedding to many of our guests and no doubt a talking point for years to come. As one of our guests commented to Andrew, "Only you could get away with someone playing a musical toilet at your wedding"!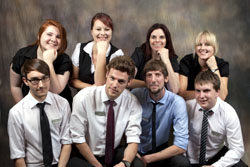 At 8.30pm there was a short break whilst the evening buffet was served. Dancing resumed at 9.00pm and continued until around 10.30pm. The dance floor remained busy and everyone was having a great time. One of the bar staff commented to Andrew that it was the quietest evening he'd had for a long time, usually at weddings you get two or three people shuffling about in front of the disco, half the guests retreat to the bar and half go out into the garden to smoke or chat out of boredom, and as we had kept everyone entertained most were too busy to contemplate anything else! It seemed that the hotel staff had a great time too, at one point we even spotted the people in the kitchen clearing up joining in with our barn dance, and they also took advantage of our photo studio for a group shot. It's often that the "behind the scenes people" get overlooked as just 'doing their job' on the day - but without them doing it, and doing it as well as they did, things would have been very different.
At 11.00pm most of our guests had departed for their long journeys home, so we called it an evening and retired to our room, which we found had been decorated for us. Thankfully no nasty surprises awaited us!
Altogether a fantastic day and everything came together more or less exactly as we had planned, and exactly as we had wished it to be. Due to our slightly delayed start and fully packed programme, we ran 5-10 minutes behind schedule all day and didn't manage to catch it up - but nobody really noticed and we certainly didn't care by the time the ceremony was over. What didn't quite go exactly as we had intended didn't really matter in the grand scheme of things as most people except the hotel manager, us, the photographer and a couple of members of the bridal party weren't aware what should have been happening and what didn't anyway!
Carolyn: I think everyone had a great time. I know I did. It was fantastic that so many of our family and friends travelled to the New Forest to be with us. It's a day I will remember for the rest of my life.
AJ: As they say on the Hitched wedding forum, "WSS" - What She Said. It was fantastic to see all our planning coming together, and what I had imagined and thought about almost continuously for the best part of a year played out before me, couldn't really have been bettered and I'm sure that everyone who took part in our day, whether as just a guest or those that had some sort of official involvement, made the day what it was, not just for us but for them too.
Our journey as individuals was complete, and our new journey as husband and wife had just begun.