How we met - by Carolyn
So where does one start? Um … well for those of you that don't know we were both members of the Match Internet dating site. I first heard from Andrew on 19th July 2009. I was away for the weekend and saw that I had a message from Match. I thought here I go again some guy has winked at me again who is nothing like me, or the only other guy who contacted me to find out more from Cleckheaton (Yorkshire), hardly round the corner or the most convenient of places to visit.
I tried to read the message on my phone and as I couldn't use the website easily from my mobile I would message him once I got home. It was a bit late when I got in on the Sunday evening, so I sent a brief message to say that I would reply fully the next night to his email. I was surprised to get a response from him within seconds saying that he thought he could wait a few more hours for my reply as he wasn't planning on going anywhere for at least the next 50-60 years or so! We wished one another a good night.
The next day I responded a bit more to Andrew's email. I am sure he wasn't expecting a story but that what it turned into, and that's what started our relationship off. A day or so later we decided to chat using Yahoo messenger, as it was easier and quicker to talk using that than the Match messaging system.
We spent hours and hours talking to one another in the evenings and it felt just like I was chatting to an old friend. We hadn't even met but we'd talked about marriage and children and it didn't seem in the slightest bit weird or wrong. Neither my parents nor I could believe that we could spend so many hours talking. It wasn't a concept I was used to in my previous relationship and I found it refreshing to find someone other than my parents who really listened and seemed interested to hear what I had to say.
We talked about meeting up on Monday 27th July after work in London, but once Andrew realised that I wasn't working on Friday 24th July, he persuaded me to give up a few hours of my day off to spend with him getting to know him. I agreed to it and Andrew then booked the day off work and proceeded to put together an itinerary of the day's events. We agreed to meet at 10.00 at London Bridge station.
The day dawned and I admit I was kind of nervous and excited about meeting Andrew, would the guy I'd been talking to for the last four days really turn up and would he be the same attentive guy in real life that he was on Yahoo messenger?
A guy in a red shirt who did at least resemble the photo he had on Match greeted me at the barrier of platform 8 at 10.04am (at least the train was on time!) It was an awkward moment... how did I greet this guy who I had been speaking to for the last four days who knew more about me than some of my friends, do I shake hands? Hug? Kiss the guy? Such a quandary! I think I may have tried to take the easy option and shake Andrew's hand only to find myself enveloped in a hug!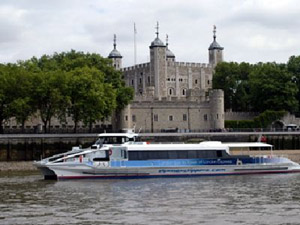 We walked from London Bridge down to City Pier and took a Thames Clipper to Greenwich; we then talked and walked around Greenwich. It then started to rain but we thought it'll be ok it'll stop in a minute or two only it didn't, in fact the heaven's opened and we had to take shelter in a Costa coffee shop which I think was where I discovered Andrew' dislike of tea and coffee. He had a strawberry smoothie or milkshake, the only problem was bits of ice and strawberries kept getting stuck in his straw which frustrated him but made me want to laugh, I quite happily sipped my mocha!
After the rain stopped we made our way over to Covent Garden and we walked around there looking at the various shops they had. Unfortunately we had to keep dodging the rain showers and thunderstorms which was fun.
Unfortunately the weather was not kind as it could be and you could have been forgiven for thinking that it was April and not July! By 4.30 p.m. we decided to go and have dinner, Andrew had booked a table for later at Porters English Restaurant, but they were able to fit us in. I can't really remember what I ordered however halfway though the meal our appetites appeared to desert us and so we left and ventured onto Trafalgar Square. We stayed for a while near the fountains before walking on to a seated area not far from Trafalgar Square and St James's Park. While we were sitting there talking it started to rain again and we sheltered under Andrew's umbrella.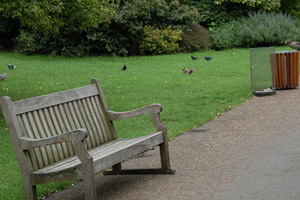 We then walked on to St James's park where we took up residence on a bench which we occasionally had to share with others in the park but mainly had to ourselves and there was a couple of times when we had to shelter under Andrew's umbrella. At about 9.00 p.m. We headed over to Victoria station and I got the 10 p.m. train home. We had spent 12 hours on our first date but out chatting didn't end there as continued to text one another on our journeys home.
Andrew asked me a few months ago when did I consider us an item, it was as I was going home on the train. If I hadn't have enjoyed his company I would have made my excuses and left early.
Have things changed? Oh ok so we might not spend every evening talking constantly but we tend to spend a least two hours chatting about our days, our plans and setting the world to rights!