Following our wedding we spent two weeks at a remote farmhouse in South Wales. The , is three miles away, and there is a half mile tree lined drive from the nearest road. Interestly we have both had family holidays in years gone past around the area, so we had made a long list of places we could visit - and, of course, in our own style, catalogued by distance with postcodes in each direction so we could make the most of our time and not waste hours travelling here there and everywhere.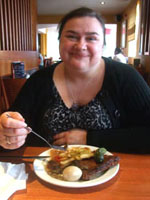 Sunday 18th September
Having shared breakfast with our guests who had stayed over at the hotel, we set about loading up the cars with the stuff we were taking home and figuring out what we needed to take with us to Wales. After a final drink with family at 11.30am we set off on our 200 mile trip to Wales.
A relatively uneventful, although quite wet, journey up the A36 through Salisbury and Bath, then we picked up the M4 to stay on until the end. We took a detour at Swansea to visit Taybarns (something I've heard a lot about, unfortunately in London our nearest is Coventry...) , which is an 'all you can eat' buffet, with a 30 metre food counter consisting of around 100 different dishes for you to enjoy. It didn't disappoint!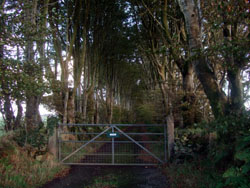 We then headed back to the M4, then the A48/A40 and then along ever decreasing road widths and classifications until after around 8 hours since we set off from Lyndhurst the sat nav finally chirped "Destination on the right" - although due to the rural nature meant we actually had another half a mile to go. There is a tree lined drive to the farmhouse, which is a very obvious landmark once you actually get roughly to your destination.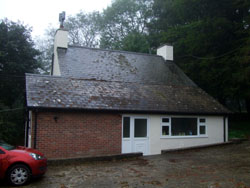 Bouncing down the drive, which we thought would never end, we finally got to the bottom and entered the farmyard. First things first though, let's find the loo. Then we explored the rest of the house, figured out what was where, bought everything in from the car. Popped out and said hello to our neighbours - a herd of cows in the field next to us - but they weren't great conversationalists so we decided to head back indoors and chill for the rest of the evening. We have a myriad of boxes, crates and bags that desperately need sorting through... but that can wait till tomorrow.
We finished by taking our suitcases upstairs to the main bedroom, and found a lovely bouquet of flowers waiting for us from Andrew's work colleagues.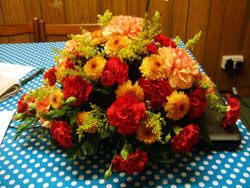 Monday 19th September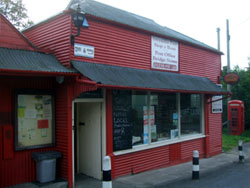 Both being very tired after yesterday's long trip, we decided that a day at home to sort things out and settle in was a good move. We took a drive into the village of Rhydlewis - three miles - where the nearest shop is, which is also the post office and police station. We passed it yesterday on our way in but of course being a Sunday everything is closed. A very friendly asian shopkeeper greeted us, as Carolyn wandered round filling the basket with some essentials to tide us over for the morning whilst I sorted out posting the photograph we had printed on Saturday to be able to send to my dad as he was unable to be with us due to illness. Having spent around £30 between us, and possibly being his first customer of the day, he was very keen for us to come back again!
Our next task was opening and cataloguing all our gifts and cards that had been given to us at the wedding, which took several hours. We were quite overwhelmed by the generosity of our friends and family.
Right on cue at 3.00pm the Tesco home delivery van could be heard coming down the drive and taking out low hanging branches, and in came our crates of food and things that will keep us going for most of the next two weeks. The delivery driver (who was also called Andrew) was very friendly and said he couldn't remember coming here before although he had passed the entrance a number of times - and was most grateful for the instructions I'd put on the delivery note about how to find us. We then spent the next hour trying to squeeze everything into the fridge, freezer and walk in larder. Tea consisted of a chicken and mushroom stir fry with black bean sauce.
Gave Carolyn a nice surprise, I texted the local radio station with a dedication which they then read out the message and played a completely different song to the one I'd asked for - which isn't too bad I guess.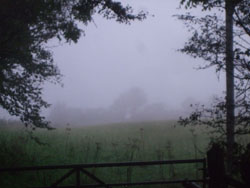 Tuesday 20th September
Waking up and pulling back the curtains we were greeted by rain and a wall of fog. No matter, it'll clear later. Perhaps - after all this is Wales. After breakfast we headed into Llandysul in search of a couple of banks so that we could deposit the cheques and cash that our guests had given us rather than having it hanging around the house. Bounce up the drive again, noticing the neighbours weren't impressed with the weather either, this time turning right at the end into more unknown lanes following the instructions of Doris, our satnav.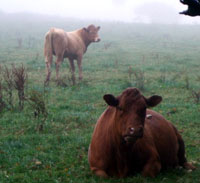 Its first instruction when we turn it on outside the farmhouse? "Find the nearest road", because as far as she's concerned we are in the middle of a field as the drive isn't a listed road on her maps.
Eventually we found our way in to Llandysul, as there is a Barclays there. Unfortunately it's closed on Tuesdays, however we did deal with some of the other cheques at the NatWest there - once we'd figured out all the Welsh signage.
The little "Siop Spar" was quite obvious though, so we grabbed a few more odds and ends we didn't have or didn't have much of, and bought some fresh local fish from the back of a van on the side of the road as we walked back to the car and headed off to Newcastle Emlyn, where the Barclays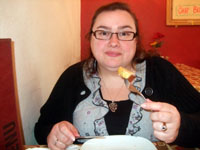 was sure to be open. Found somewhere to park, dealt with what we could and made an appointment to deal with what we couldn't, and headed across the road to "Number 11" for lunch, where Andrew had Welsh Rarebit, Carolyn had a mozzarella, red onion and tomato panini, and we shared a bowl of chips. Like a good well trained husband, I let Carolyn have the last one.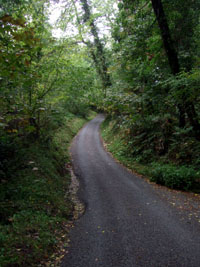 We then thought we'd head off to Llwynhelyg Farm Shop and check out what they had to offer. Unfortunately a lack of signage meant I missed a turning I should have taken, so the satnav recalculated and took us down a single track road hugging a valley with a steep drop to the side, which didn't look like it was really meant for motorised traffic but the occasional road sign indicated that it probably was at least a proper road of sorts and not a dead end farm track that turned into two tyre dips across a field. One quick pause to remove a fallen branch (well actually it was more like half a tree) out of the road whilst Carolyn looked on in amusement, and about 20 minutes later we hit civilisation again and a B road. We found the farm shop, made a note of other things to buy on another visit, and headed back home - apparently they recently won a silver award in the Wales True Taste awards so if you happen to be passing do drop in - however they also do mail order which may be useful in the future! We did see the sea a couple of times but despite several short detours via back roads to try and find a beach or a cliff, we were thwarted so we decided that we'd save it for another day.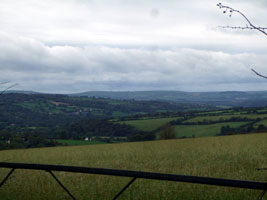 Thought we'd do a washing load today as although there's a machine here we don't have a tumble drier, so it may take a day or three for things to dry - having said that, wind drying is just as effective as sunshine, and there is certainly plenty of that up here. The sun is trying to come out so you never know what might happen!
We had the fish we'd bought earlier, baked in olive oil with mushrooms, onion and herbs, for tea. As we finished we noticed that the sky was quite red, so we thought a picture would be nice as it was lovely compensation for the end of the day compared to the dreadful start we'd had weatherwise! This was taken from the gateway at the bottom of the drive as it curves round into the farmyard.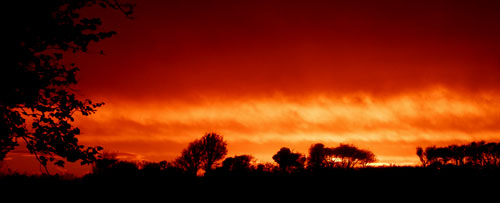 Ended the evening curled up on the sofa enjoying a comedy DVD.
Wednesday 21st September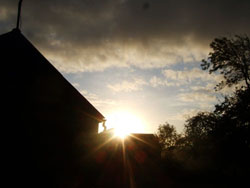 A lovely clear night means it was quite cold this morning, although no frost. A comfort break at 4am gave a fantastic view of all the stars out, unfortunately I couldn't get a decent shot of it with my camera, but it's amazing how easy it is to forget the beauty of a night sky when you put up with all the light pollution of London on a regular basis. Nice sunrise too with blue bits, which we haven't seen for a couple of days.
Had a flip through the TV channels this morning to see what we could get up here, and found a deilghtful Welsh language childrens programme with the strange name of "Igi Tigi Bip A Bop" which looked as bizarre as most English childrens tv programmes with the added bonus of not understanding a word that was being said. Nothing much on the telly really, so let's find something more important to do. Weather looks promising so it's time to consult the "big list of stuff we could do" and find somewhere to go, after breakfast of course. The washing did dry overnight by the radiator so that's another job out of the way.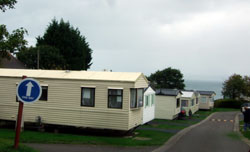 We thought we'd take a trip to Aberystwyth and ride the Vale of Rheidol Railway - but first, take a detour at New Quay to the Quay West Caravan Park which Andrew and his family went to on holiday in 1984. We found it fine and had a little drive round, and located the where we stayed back then (it's the spot the second caravan is in the picture - obviously it's a different caravan now) and the site hasn't changed a huge deal in those years. We parked by the reception and thought we'd grab a brochure to take home and show people. It was then that Carolyn noticed a little puddle of water underneath the car. Upon opening the bonnet we found that the radiator tank was more or less empty - we had a leak. We filled it up with water and drove carefully back to a garage we'd seen on the main road. The mechanic had a look but said he couldn't do anything with it for a couple of weeks as he was fully booked. He gave us some free water, pointed us in the direction of another garage about a mile away, and resumed his tea break. We found the other garage at Synod Inn, they put the car up on the ramp and pressurised the tank and hot water squirted out all over the place. Muttering something no doubt unrepeatable in Welsh, the mechanic confirmed what the other one had thought, a gasket and joint at the bottom of the tank had split, which is apparently not uncommon on Fords - pity the salesman didn't mention that when we bought it. We can fit you in Friday if we order the bits today, and quoted about £150 for repairs. Not an entirely welcome addition to our honeymoon expenses but as we're so remote we have no other option but to have the use of a car to do anything, plus of course we still have to get home. That rather messes up our plans for the week but I'm sure we'll survive.
We limped back to our farmhouse, had our packed lunch that we would have had at Devil's Bridge whilst we waited for the train back, and spent the afternoon starting work on writing out our thankyou cards. Once the disc of photos arrives from the photographer, we will pick our favourite, get 80 copies run off at the local photo shop, stick them on the cards and then take them to our friend at the little post office in Rhydlewis which will no doubt make his day again.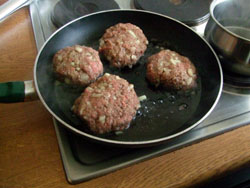 Had a knock on the door which was unexpected, it was a guy from the local electricity board that had apparently been contracted to cut back the trees surrounding the power cables into the house, which was news to us. He said he'd survey this afternoon to see what needed doing, fill in some paperwork, then come back tomorrow to do the work.
Watched "The King's Speech" this afternoon, and then for tea we made some burgers and potato wedges from scratch (Caz making the burgers and me working on the herby garlic wedges), and supernoodles. Very tasty. I then cleaned the large window in the living room as it didn't look like it had been cleaned since the last century, as it was annoying me, before the sun went down. Ah, who said romance is dead?
Thursday 22nd September
A bit of an early start thanks to the tree surgeon guys arriving just after 8.30am. More toast and cereal for breakfast followed by some more work on the website and another DVD. Without the car, we can't go anywhere much unless we get desperate for something. Defrosted some pork chops for tea..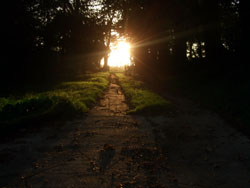 Fairly lazy day really, watched a bit of telly then shot down to Rhydlewis to get a few odds and ends from the little shop there. Managed to get there and back ok, lost a bit of water but not too bad. That's about the distance to the garage tomorrow so we should be ok. Phoned up the garage and confirmed tomorrow for 10am, and checked the bus times (the 550 is once an hour in each direction) from there into New Quay. Not sure what might be open there being out of season but we'll take lunch so even if we end up sitting all day in a bus shelter it won't be a big problem. The harbour is very pretty anyway, as long as the weather is permitting, and there may even be some local fish for sale there. Apparently New Quay's "off season" population is only about 1,100.
Nice sunset this evening, hopefully that means there will be a nice day tomorrow. Didn't see the tree guy today so no idea what happened to him.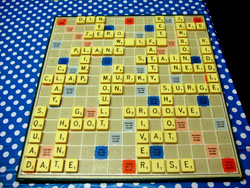 The pork chops were cooked with some onion and carrot in "Orchard Gold" cider from Gwynt Y Ddraig, a Welsh cider company, which we picked up from the farm shop on Tuesday. They were cooked on a medium heat for about two hours, and served with peas and mash, and the liquid they were cooked in was then added to some Bisto to make a gravy. I have to say this was a jolly nice meal, and despite Andrew coming from Somerset and knowing a good scrumpy, Welsh cider isn't a bad attempt at real cider even though this stuff had a bit of a fizz to start with.
Finished the evening with a couple of games of Scrabble, which were won by Andrew on both occasions by a small margin. Another early night as another early start tomorrow with the trip to the garage to hopefully get the car fixed so we can resume ticking things off of our "places to visit" list.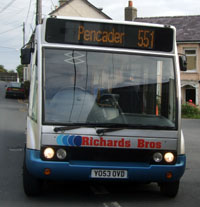 Friday 23rd September
Off to the garage this morning with the car, then the delights of a Welsh bus and a few pleasant hours in New Quay. One thing that New Quay cannot be accused of being is flat - from the bus stop there's a long steep and windey downhill to the sea front - which, sadly, of course means it's a long steep and windey uphill back.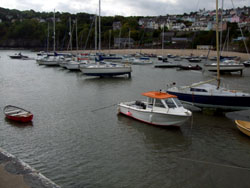 But we tried not to think too much of that. It hasn't changed a lot since Andrew was last here in 1984 - the harbour is exactly the same, and many of the shops and amusement arcades are unchanged. However, luck has, with Carolyn winning £4 after spending £2 on an "Italian Job" fruit machine.
We thought about taking a boat trip dolphin watching, but having investigated it there weren't enough people to make the 11.00am trip feasable so we were offered two spaces on the 12.15pm trip. We toddled off to a cafe for a plate of chips and a drink, as there's not a great deal else to do if you don't want to sit on the beach, although it is nice and sandy.
Our time came, and we wandered back to the harbour at the right time to catch our boat for a one hour trip. The sea looked quite calm and promising, although unfortunately this didn't last long -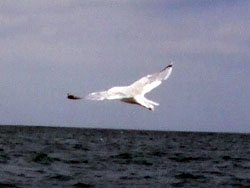 after about 10 minutes the sea became quite choppy with a swell of a good metre or two, which when you're in a little boat with little protection, and the lifejackets are at the other end, it's a little disconcerting. A good commentary, however, did take away the nervousness as neither of us are particularly good swimmers.
We did catch a brief glimpse of three dolphins a short distance away from the boat, but regulations mean we can't go any closer or chase them. Couldn't get a picture sadly. We were also told there might be some Atlantic Grey Seals along the coast but sadly these too proved elusive. However, we did have a seagull land on the front of the boat and hitch a lift for a couple of minutes.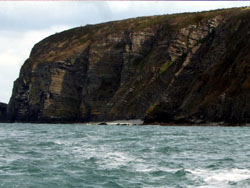 There is some spectacular scenery along that particular bit of the coast, with lots of secluded coves, beaches and caves which in years gone by would have been very popular with the smugglers doing their bit to avoid taxation. Unfortunately the wildlife continued to elude us, but otherwise it was a very pleasant and enjoyable, if a little choppy, trip for an hour. A fellow passenger obliged in taking a picture of us to prove that we didn't go too green - even if our coats were.
We slogged our way back up the hill to the bus stop, and eventually got the bus back to the garage at Synod Inn - interestingly it seems that few actual bus stops exist (at least on that part of the journey) and you just let the driver know where you want to get off. Thankfully we realised this before we turned on to the main road and headed off blissfully unaware to Aberystwyth. Picked up the car, thankfully it was a lot less than expected, apparently it could have been one of two parts, an expensive one and a cheap one, and it was the cheap one that needed replacing. Settled up and went on our merry way.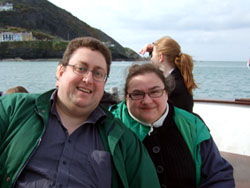 We thought we'd take it for a little trip just to check it out, and headed to Aberporth which is about 10 miles down the coast, detouring into the farm shop again for a few odds and ends that we probably didn't need but are still very nice to have.
Aberporth is a pretty little village, with a nice secluded but very sandy beach. The fish and chips smelt very nice so we might take a trip back next week to sample those. We spent a nice half hour sitting on a bench overlooking the beach, and then headed back home where we made some pizzas, which were dutifully devoured. Think it's time for another game of scrabble to see who can win this time. Unfortunately (and nothing to do with the fact that Andrew is writing this, honest) the scores were not recorded.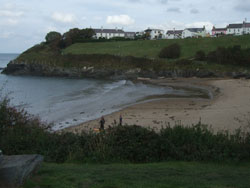 Saturday 24th September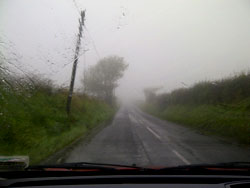 Another day that started off with great promise but soon went to pot. A nice looking morning, so let's do the Gwili Railway, Cenarth Falls and then head off to Newport Beach for a picnic. We stopped in the little shop in Rhydlewis for a couple of things, and by then it had started raining. We headed over to the Gwili Railway (about 20 miles) as the rain and fog got worse, only to arrive and find that they were closed today due to a lack of volunteers. A pity, as they seem to have an interesting range of stock there - but no matter, we can do it another day. Cenarth Falls won't be much fun in this rain either, but you never know it might just be nicer for Newport Beach. We did go past Cenarth Falls, although we were on top of it before we realised, and didn't stop - although it looks just like we remembered it. So, as the weather looked like it wasn't going to improve, we gave in and ended up at Tesco in Cardigan, partly because we had three petrol discount vouchers that needed using up before tomorrow and that was the nearest one to us.

We popped in for a couple of bits and bought rather a lot more than we needed - but at least this then means we should be able to get away without any more shopping before we head home next weekend. Most bizarre seeing all the signs bilingual, with English seemingly added as an afterthought. I don't know why but it was a really unpleasant experience, people obviously not having a clue about not blocking aisles, saying "excuse me" rather than reaching round you to get something you happen to be in front of, and of course everyone talking Welsh to each other doesn't help. I'm sure it's just shopping that does it to people.
Headed back home, with an afternoon of cooking in mind. We have a cazzerole in the oven for later, will be putting in a bit of pork shortly which we will cool and slice up for tomorrow in case we go out anywhere (might as well cook it now as the oven is on, and it saves time tomorrow) and had some soup for dinner. The cazzerole was lovely, there's some left over for another day, and the pork has lots of lovely crackling which will do nicely for tomorrow's tea.
Sunday 25th September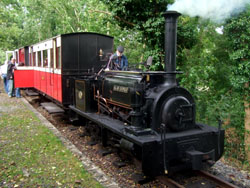 A pleasant start, so let's make the most of it whilst we can. Started off with a trip to the Teifi Valley Railway, in time for the first trip out of the day at 11.30am. A very pleasant 40 minute round trip of a couple of miles each way, not a very fast service but who cares amongst such lovely scenery? Video to follow.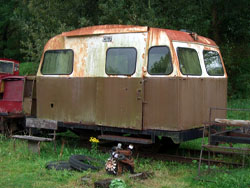 They have an interesting selection of stock here, including this rather bizarre rail mounted caravan looking thing that could almost be straight out of a Top Gear challenge - apparently it's a Bord Na Mona (Irish Peat Board) 3ft gauge ambulance for rescuing injured workers from out amongst the peat bogs back to the nearest road. It comes complete with a stretcher - but as it's 3ft gauge obviously it can't run on the 2ft gauge Teifi track. Apparently that is due to be sorted out in due course with a simple wheel change, and converted into a Works vehicle.
Next, we took a trip on a 7¼" gauge "sit and ride" railway operating from outside the cafe. This was a lovely little ride in amongst the trees, with a small "steam loco" actually powered by a lawnmower engine. It's really designed for kids but hey, we weren't stopping anyone having a ride, so it did wobble a bit as we got on and off we chugged. Before departing, we had a little look round the gift shop and Andrew came away with a TVR cattle wagon - no, not a full size one, but a OO scale model limited edition. Quite whereabouts on a model railway layout at home that's likely to end up is anyone's guess but it's a nice souvenir anyway.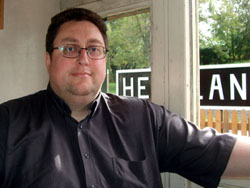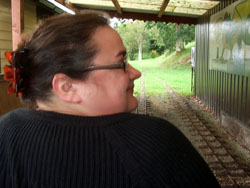 As the weather continued to look promising, we headed over to Cenarth Falls for lunch, with yesterday's picnic. There were a few annoying spots of rain but not enough to ruin the picnic, which we enjoyed. A few photos later, and it was time to move onwards.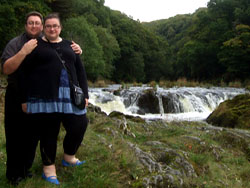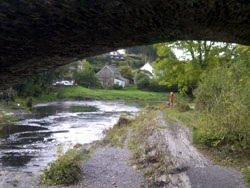 Our next port of call was Gwbert. We had no idea what to expect apart from the fact it was on the coast, and it had a funny name, so off we headed, following the Satnav's instructions. Although it was quite blustery when we arrived, the views over the Teifi estuary as it hit the sea was well worth the journey. We then headed back homeward.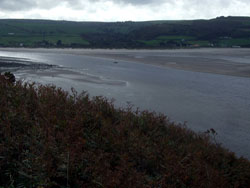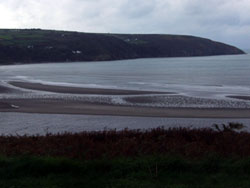 Monday 26th September
Another nice start so we thought we'd give the Gwili Railway another try. Phoned up to check and it was open, and their steam engine "Haulwen" was running today. Headed off down the usual selection of narrow lanes, and after about an hour finally arrived. Still about 25 minutes until the train goes so we had a drink, bought our tickets then wandered round the little shop. Had a very nice little trip mostly alongside the River Gwili (which is where the railway gives its name to - it's a tributary of the River Towy which goes through Carmarthen.). The line is about 5 miles long, once you reach the other end the loco runs round and then we stop for about 25 minutes at the intermediate station (which we don't on the way up) where there is a miniature railway (which didn't seem to want to work properly so we didn't get a trip) and a burger van.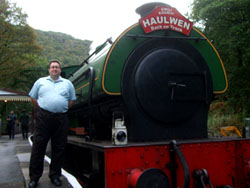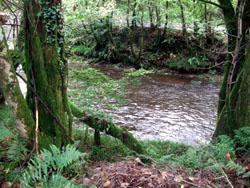 Our next port of call was Kidwelly Castle, which Andrew last visited in 1981. It hasn't changed a great deal. Somewhere in a box at home is a photo of Andrew sitting in the bread oven at the castle; sadly it was not possible to recreate that shot this time as the hole is much smaller than Andrew now is - but we did at least get a shot in front of it thanks to the camera's timer.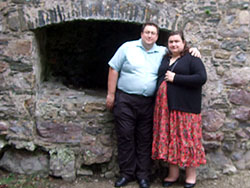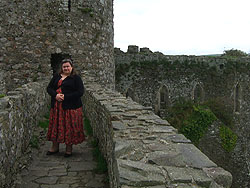 Given that it's almost 900 years old, obviously some parts of the castle are long since fallen down but the vast majority of it, particularly the outer walls, are still intact. I'm not sure what the population of the castle was but it isn't that big so it must have been quite cramped inside. The history of the castle is well documented inside, and at only £3.50 to get in it's well worth a visit if you're in the area.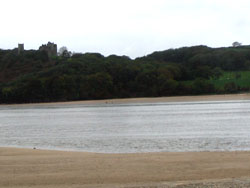 Finally we headed to Carmarthen Bay caravan park, which is where Andrew's summer family holiday in 1981 was. We thought it would be interesting to see how it had changed - and surprisingly not a lot. We managed to locate the pitch where we stayed back then, and wandered over to the beach. It's actually on the estuary where the Taf, Towy and Gwendraeth rivers meet so it is a very wide and sandy beach at that point although a bit further up river it turns into tidal mudflats - at least when the tide is out it's sandy anyway, but you don't want to go wandering too far out into the sandbanks in the middle as fighter jets from the nearby air base use them for low level flying and target practise from time to time. We picked up a brochure, just in case we fancied a holiday there at some point in the future. We then wandered up the coast a little way via some very thin lanes to the village of Ferryside and parked up next to the station - which is still controlled by semaphore signals - just to enjoy the view over the estuary from a different angle before heading back to our home. Right opposite Ferryside up on the hill is the ruins of a small castle. No idea what one though, will have to look it up when we get home.
Tuesday 27th September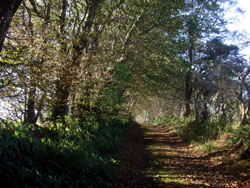 A lovely start to the day, as this picture taken up the driveway from our house shows. We couldn't plan much today as we were expecting the delivery of our official photographs, which duly arrived by special delivery at about 9.30am. A quick look through and we chose the image we wanted to use as the cover image for our thankyou cards, then headed off to Morrison's in Carmarthen to their photo shop to run off 80 copies.
Whilst we waited for the printer to run off the copies, we wandered round the store picking up a few odds and ends to replenish supplies, only to be interrupted by a loud warbling siren... the fire alarm had gone off - thankfully it was a false alarm. So we dutily left our trolley behind and headed out to the car park assembly points as confused as everyone else (including some of the staff...) whilst the alarm was checked and poked until it went off. We continued our shopping, and ended up buying a set of "the worlds sharpest knife" from a lady demonstrating inside the shop. If it never breaks, never goes blunt and has a lifetime guarantee, I'm not sure why you need a pack with three in it but hey there you go.
After picking up our photos, we headed for a McLunch, which as usual the contents of the box looked nothing like the pictures on the menu, but it was palatable. We headed home to deposit our shopping, then headed out again to Llangranog, which is the nearest beach to us (around 5 miles) - we've been meaning to go several times already this week but the weather conspired against us.
A fairly tortuous journey down some very narrow, steep and twisty roads in places barely wide enough for one lane let alone passing places, but once we got there it was worth it. We took advantage of the parking attendant not being at his post to save £3.50 but then we were only there ten minutes and it was after 5pm. We do plan to go back - weather permitting - and enjoy it for a little longer. Apparently if you go into the pub adjacent to the car park and have a meal you get the parking fee back anyway.
Llangranog is a small cove with high cliffs either side, and a nice sandy beach once you get past the few yards of stones. There's also a little stream that runs out of a pipe under the road and meanders across the beach. A few small caves line the bottom of each cliff, no doubt also used for hiding contraband in years gone past.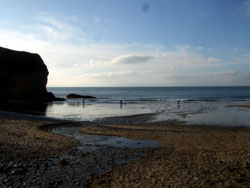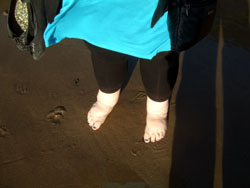 Just to prove what a lovely day it was today, Caz even had a paddle! We headed home and had tea, then spent a productive hour or so putting our thankyou cards together and sticking stamps on them for their hopeful despatch tomorrow.
Wednesday 28th September
Started the day with making the guy at the post office happy, sending off 60ish thankyou cards. Then headed in to Cardigan for our appointment with the bank to open up our joint account. The guy before us overran his appointment making us about half an hour late getting in there, and sitting in a bank waiting is tedious enough at the best of times but when everyone around you is speaking Welsh it's even worse! Thankfully our appointment was fairly trouble free, and got the account sorted - but somehow ended up upgrading my main account to have mobile phone insurance, car breakdown cover and several other things for about 50p more than an existing mobile phone insurance policy I forgot I had set up. No matter, it's always useful, and the breakdown cover needed sorting out anyway.
Then we headed off to Newport Beach, which is somewhere Carolyn was very familiar with from childhood holidays but I had never been there. A somewhat torturous set of windy lanes down there but it was certainly worth it as it's a fantastic beach, helped by the tide being out when we were there, with lots of sand and very flat. You can even park your car on the beach if you want - and we enjoyed the sight (and sound...) of a couple of boy racers trying to do doughnuts in the sand and failing miserably to impress their girlfriends.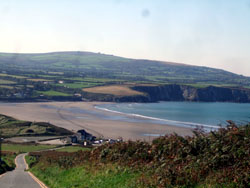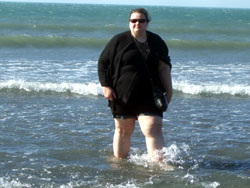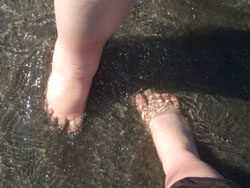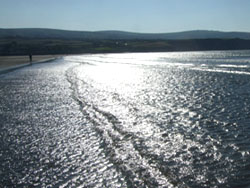 Had a very nice 3-4 hours there, only briefly interrupted by about 50 schoolchildren walking past us going rock pool dipping, then we went for a paddle before heading home. Unfortunately it was quite windy so dry sand was blowing about and a bit painful on the legs. Drew in the sand before we left though.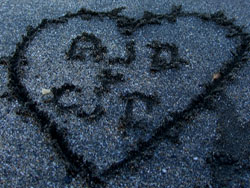 Thursday 29th September
Nothing to report today! Started doing some tidying up and sorting out in preparation for heading off on Saturday. Most of it is now done, with just a few things to do friday, including packing the car, then saturday morning strip the bedding, quick scoot round the bathroom, put the bin bag out, and off we head to Somerset.
Friday 30th September
Our last official day of honeymoon :( But all good things must come to an end, eventually, so we thought as a reward for doing most of the cleaning yesterday we headed off to the Museum of Childhood. I must admit that when we first pulled in to see an empty car park (albeit only 20 minutes after opening time) and three small ramshackle tents in front of us I was very tempted to turn round and go straight out again... but as we'd been past a few times we thought we would persevere - and very glad we did. It's a right little aladdin's cave there with over 10,000 items on show, with a cabinet from each decade from the 1920's to the 1990's, a selection of toys made in Wales, a TV and film section, an old garage etc etc. Fascinating and we spent well over an hour wandering around. Very much recommended if you happen to be in the area!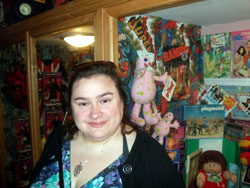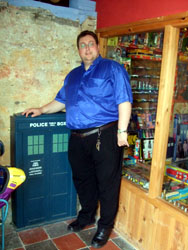 After that we headed back home for a bit more tidying up, then headed out in the evening to the chip shop in Aberporth for our final meal (and to save washing up!!!) where we had fish and chips. We did ask for curry sauce, expecting the normal little polystyrene tub of orange goo, and ended up with what appeared to be a soup bowl full of stuff, which was basically add some chicken nuggets and you had a proper curry.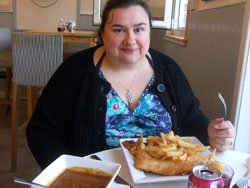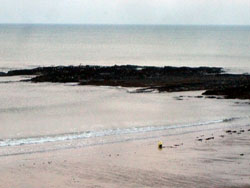 Fully satisfied after a decent meal, we watched the sun go down over Aberporth beach and headed home, via a petrol station for the long journey home.
Saturday 1st October
Hometime :( After a final scoot round and loading the car (which was much more packed than it should have been but hey), we thought we'd take a few pictures of the holiday home for you.
Living room and dining room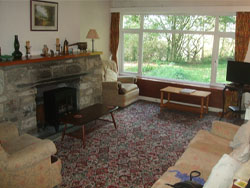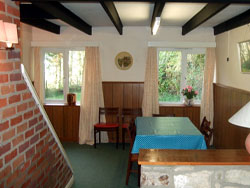 Master bedroom and view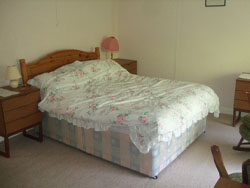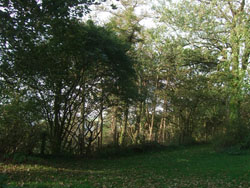 Twin and single bedrooms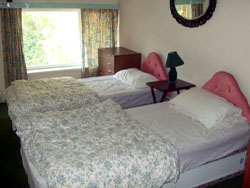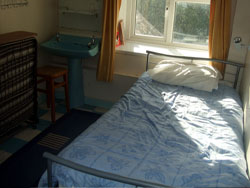 Views from the front and rear of the house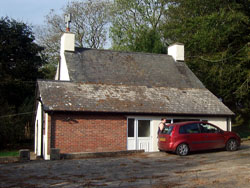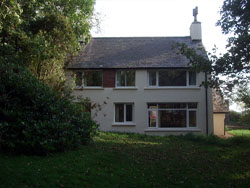 ... and that was it. Tap in postcode, 176 miles to go, says the Sat Nav. Off we head, and after 5 miles we run into a slow moving queue of cars - full of people from a farm, chasing an escaped herd of about 30 cows down a single track lane to get them back to the farm. Occasionally they'd all screech to a halt, jump out and round up an escapee out of someone's garden, and carry on. It took us an hour to do the first 20 miles. We finally hit the main roads at Carmarthen, hen eventually the M4. Pausing briefly at Sarn services for a drink, we carried on across the Severn Bridge and then saw the magical sign...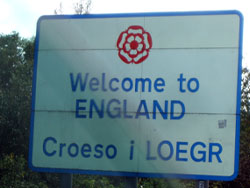 We were back in England! Our journey was not quite over though as we were heading down to see Andrew's parents and pass on the wedding slideshow DVD, and watch Ilminster Carnival. But that's for another day. About six hours after we left Wales, we pulled up at Ilminster Travelodge and settled back into reality. What a wonderful two weeks - most unseasonal weather too but apart from the small problem with the car, perfect in every way. We're looking forward to going back next year if we can.