The engagement story- by Andrew
"So", I hear you say, "how and where did it all happen?". Well, pull up a chair and I'll tell you!
I'd planned this for a few months, but didn't know quite how to do something special and make it memorable. Anyone who knows me will know that I'm about as far from spontaneous as you can get, and like to plan everything to the minutest detail months in advance to make sure everything goes right first time - an unfortunate trait from my work as it involves a lot of logistical planning.
Carolyn's sister, Bev, got married on 21st August 2010, so in the run up to that, Carolyn was needed for a number of weekends for things like hair trials and makeup. I happened to find myself with a free Saturday morning (I was seeing Carolyn later that day) so I hopped on the "45" bus to Camberwell Green, to F Hinds. After standing outside and looking in the window for a few minutes, slightly boggle-eyed at the amount that some of these bits of jewelery were costing, I finally decided to go in and see if they could help me with something appropriate that wasn't going to require a small mortgage. I already knew the size needed, and that she liked sapphires and diamonds (well what girl doesn't) so after about an hour of looking at rings, I finally found what I thought was hopefully something she'd like. Great! Ok so it'll need to be sized, no problem, handed over the credit card (which was nice because I got Nectar points too!) and was told 3-4 weeks delivery.
Three to four weeks? That'll mean I miss our first anniversary as we'll be away on holiday that week. Help! "Well sometimes they're early" said the shop assistant, which didn't exactly fill me with confidence but, hey, it was that or Argos so I decided to bite my lip and go for it.
Our holiday was rapidly approaching, no news from the jewelers, so I resigned myself to having to come up with a "Plan B" for later in the year. Friday 23rd July came, I packed up my case for our holiday, loaded it into the car and drove to work to go down and get Carolyn in the evening, then down to the caravan. Just before noon, my mobile rang with a number I didn't recognise - my ring was in!
Ok, think... checked at work, it was fine to have a 'half day' at short notice, so that was easy, I could at least get the ring - but how to "do the deed"?
Then it came to me. On our 'first date' we took a river trip on a Thames Clipper, so what about the Chichester Canal? A few phone calls later and my scheme was in place. With a detour via Camberwell, I headed on down to Carolyn and off on our holiday we went.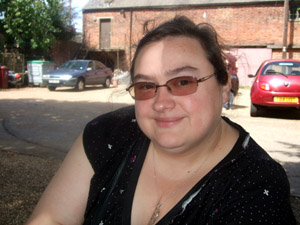 We had previously agreed to have a trip on the Chichester Canal on the saturday; the sun was out, and we hadn't managed to get there on our trip earlier in the year, so off we went.
We parked up and walked over to where the Chichester Canal 'base' is, and there was one picnic table left unoccupied so I "suggested" to Carolyn that she go and grab the table whilst I go and buy our tickets. What she didn't know is that I'd chartered private use of the boat for a trip, the crew and office staff were all in on it - but she was completely oblivious. I got a couple of ice creams and we sat in the sun waiting for our 12 noon trip.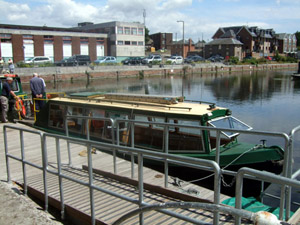 The captain (or whatever he's on a canal boat) yelled out "tickets for the 12 noon trip" so up we got and walked towards the 12 seater narrowboat Egremont, but nobody else followed us. Carolyn guessed that something might be up, but I played it cool, shrugged and said "well it's lunchtime I guess" and off we went to enjoy our trip, complete with the standard commentary pointing out the various bits of the canal heritage and at around 12.30 we reached the far end of our trip (the current route limit, the bridge over the B2201 at Donnington) and we turned round for our trip back to Chichester.
Looking for a suitable landmark, just a few minutes back from the route end was the remains of the old railway bridge that carried the "Selsey Tramway" over the canal so that seemed as good a place for any. I said, "um, actually there is a reason that we have the boat to ourselves", got down on one knee (or at least as close as you can on a narrowboar) and popped the question. There were a few seconds of stunned silence, then an enthusiastic "YES!" and a hug... phew, I could breathe again!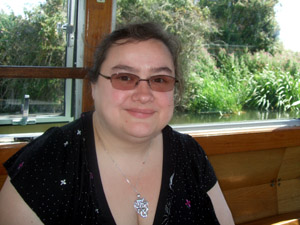 I gave a 'thumbs up' to the boat crew, who invited us up to the "Bridge" to enjoy the sunshine with them, and we got their congratulations. Apparently we are the first couple that they are aware of that have ever got engaged on the Chichester Canal, so we made a point of writing our entry in the Ship's Log/Guest Book. As you may be aware, Ship Captains are permitted to marry people aboard their vessels but despite their kind offer we suggested it might be better to wait a little while!
We arrived back at the Canal Basin, to be greeted by Val (the volunteer who I'd arranged all this with previously) who normally didn't work weekends but came down especially to see what had happened. It was all still a little bit overwhelming but the main thing was it was a 'yes'!
We had lunch, and headed back to the caravan so we could begin to let people know. Naturally we phoned our parents first - and I think it's the first time I've ever heard my mother lost for words! Once we'd done that, we spent the rest of the day ploughing through our friends list, with calls, texts, emails and Facebook messages.
So that was it. Simple, but effective, and meticulously planned (at least as well as it could be in less than 24 hours) with the desired outcome. Then begins the fun bit of the planning the wedding... which we'll save for later!
I know many of you like to see rings - so here it is in all its sparkly glory.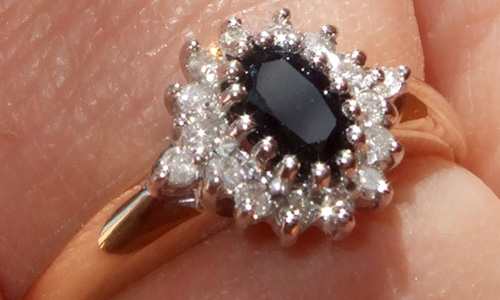 For more information on the Chichester Canal, please click here. A video about the Chichester Canal can be seen below.